The Japan World Stamp Exhibition PHILANIPPON '01, Tokyo, August 1st to 7th, was an unique occasion for the Japanese postal administration to have a look back at its past that is marked by wonderful reproductions of art. The most interesting of them present the treasures of the woodblock print, a technique known under the name of Ukiyo-e. Nicely issued in big formats (a true revolution of the 1950s), these stamps also fully deserve the name of "beauties", a fact that the "expanding" title of this page tries to emphasize.

On Oct. 6, 1988 the Japan Post issued, as part of it International Writing Week series, two new reproductions of Ukiyo-e prints. The value of 80y displays the work "Kumesaburo Iwai as Chiyo" by Kunimasa Utagawa (1773 - 1810), the late Edo period (Scott 1808).

The Kunimasa's print reappeared in 2001 on two souvenir sheets dedicated to the PHILANIPPON '01 exhibition. The normally perforated sheet of stamps is shown on the previous page. A second one, proposed in a self-adhesive version, is shown below. The sticker-type stamps of this sheet are irregularly shaped and have for this reason different dimensions.

This is the first Japanese issue printed in eight-color photogravure. The stamp above in the middle is taken from this miniature sheet, and that from the right from the perforated miniature sheet. The amateurs of art will recognize also here in the background the most famous painting of the Japanese art, the "Breaking Wave of Kanagawa", by Hokusai.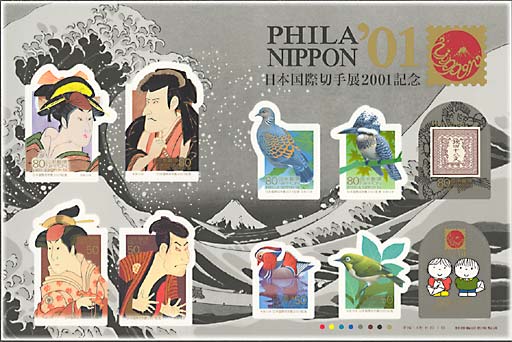 We display below on three stamps the print "Ichikawa Komazo III as Ganryu Sasaki " by the artist Toyokuni Utagawa (1769 - 1825). In the middle we show the self-adhesive version and on the right the perforated one, both issued to commemorate the PHILANIPPON '01 exhibition. The print firstly appeared on Oct. 6, 1988 in a set of two stamps that the Japan Post issued, as part of it International Writing Week series (Scott No. 1809). It is shown below on the left.
On further pages we will continue to display as well the older issues (when we have them), as bigger images taken from the both miniature sheets.
Links to pages on this site, dedicated to the Japanese stamps:
---